The View: Pramila Jayapal, Hot Topics
Panel is Whoopi, Joy, Sunny, Sara, Meghan
https://www.youtube.com/watch?v=iNj1C37KcHQ
More behind the cut
Hot Topic Hot Topic #Impeachapalooza 2: The Coup d'état™
https://www.youtube.com/watch?v=eU91wESDR5w
House meets today for impeachment vote. Panel supports impeachment but unity won't occur without accountability.
MAM says blah blah. More talk about GOP wanting unity after however many just voted down certification of a free and fair election and a week after T45 incited insurrection against our own government. Clowns.

Hot Topic Pramila Jayapal
https://www.youtube.com/watch?v=kmagjtlvg2Q
https://www.youtube.com/watch?v=NHI7XZ_M3ko
Pramila Jayapal (D-WA) talks about the insurrection also being a super spreader, she has covid and started experiencing symptoms on Sunday. She's sure about when and how she got it because of her negative vs positive test timeline. Talks about penalties for Congress who refuse to wear mask. Fines are in place but doesn't go far enough. Members shouldn't be allowed on the Chamber floor or hearing rooms without mask. She explains her experience during the siege and the photo that shows her not wearing covid mask. They were told to take them off in preparation of putting on a gas mask because you can't breathe with both types of mask on. They talk about possibility of fellow Congress being co-conspirators organizing the insurrection. Bombs at RNC and DNC were planted to divert support away from the Capitol.
They move on to impeachment. Wonders about McConnell influence on Senate votes. They talk about expelling complicit Congress. 14th amendment should apply specifically to insurrectionists and those who incite violence.

Hot Topic The Joy of Reading
https://www.youtube.com/watch?v=H38f9EWZnnk
Kyle Zimmer of Disney is promoting the 30th anniversary of First Book campaign "The Magic of Storytelling" that will provide books to under-serviced children across the country. Go to www.firstbook.org for more info. So far delivered 250M books over the course of the initiative. This year, as part of the campaign, 1000 books in each panel member name will be sent to a local non profit charity of their choice.

IMPEACHMENT 2 IS COMPLETE
Democrats 222 Yes 0 No
Republicans 10 Yes 197 No 4 NV
Total 232 Yes (> needed 218)
Ontd one more week. Hugs if you're feeling overwhelmed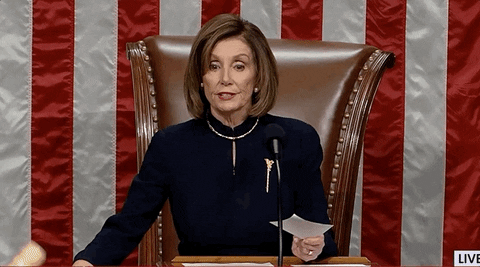 Source links are below each video or section